Spa Day - Monday, November 7th 2022
Details for the
Spa Day
Monday,
November 7th
You are cordially invited to join at:
Plan:
Arrival: ~11am
Lunch:  12:30pm
Group Photo:  3:30pm
Guests
Friendly femme & non-binary adult industry pros may be invited so long as it is noted that whorearchy is not welcome.
Perpetuating patriarchal purity culture & the idea interactions with men devalue women is ridiculous & rude.
Guests include Dominas, FSSWs, strippers, and porn stars.
Before inviting square friends, please double-check for whorephobia with everything noted above.
Men
Any man brought must understand he is not to speak to others unless spoken to.
If he doesn't like that, he shouldn't attend Dominatrix's birthday party.
Please do not publicly announce the location, we don't want stalkers or other creeps showing up; that's why I am saying on Twitter that it's a 'new, secret location.'  If your client or fan shows up uninvited, please get him away from the group and speak with him privately or call security if he is told to go away and won't.
Shermie and Bruce are providing chauffeur service and will be joining us.  They are very friendly and respectful; if you are not up for conversation, please do not hesitate to say so.

Shermie teaches needle and fire play classes, and Bruce volunteers with TES.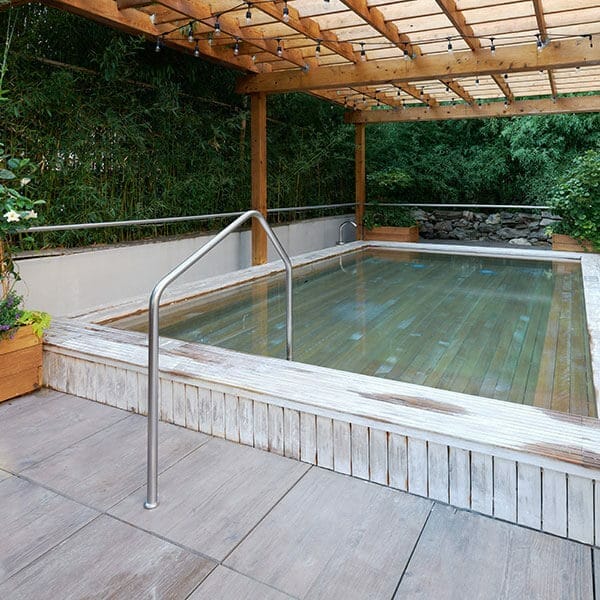 Brooklyn Chauffeur
10am - Near the old Chez La dungeon
Goddess Aviva
Mistress Fae
Cherry Malicious
Lola Jean
______Full Car______
Manhattan Chauffeur
Viktoria Sway
Miss Orion
? Miss Orion's colleague?
Galatea Stone
__Empty Seat__ - on route only
Port Authority Group
Mistress Shayla will lead this group.
10:15 am
Mistress Shayla
Paige (stripper friend w/ no socials)
Elena De Luca
NJ Transit #158 bus to Russell Avenue / River Road. You will need a roundtrip Zone 3 ticket from Port Authority.
2021 Attendees:
(By order of confirmation)
Tips:
Bring clean flip-flops and a plastic bag, put them in your carryall while barefoot indoors.
Bring sunglasses for the photos - I may skip makeup.

Sheet masks are popular in the saunas.
The purple line on the map shows the shortcut from the locker room (the door is to the right of the indoor pools) to the Silk Bath, one of the higher-temperature baths.  I go there first and soon feel warm enough to walk around comfortably in the high 50s/low 60s November weather.
Purple dot = group photo location for  3:30pm.

Claiming those lounge chairs would be helpful.

Driving Directions:
Valet Parking $12:
SoJo Spa
660 River Rd, Edgewater, NJ 07020
Free parking 1 block away:
606 River Rd, Edgewater, NJ
Brooklyn Chauffeur:
Old Chez-La Pickup:  10am
SoJo Spa Arrival:  ~10:45am
---
A departure for Chez-La will leave at 4pm
ETA 5:05pm according to Waze
5:15-5:30pm more likely.
Gifts / Presents
Truly, your presence will be the best present 🙂
Kicking into a pool to sponsor the admission for someone who could use it would be amazing!
If anyone is game to keep the kitty/pool the funds, pls let me know - it's 100% cool if you could use it yourself.
Getting subs to contribute Lyft gift cards to the rideshare pool would be awesome!  Sold in drugstores and available online here:
My favorite gifts to receive are non-appearance-related compliments. Ya, I've been dealing with men for too damn long...
So, you would like to join the party 🙂
Please let me know if the answer is 'yes' to any of these:
Can I add you to the online guest list?
Would you like to join a ride-share?

Note 'Chez-La Dungeon'
Send an intersection in Manhattan.
Would you like to be added to the group chat on Signal?

Please send your number if so.